PS752 Association
The Association's Statement re Zarif's Leaked Audio File: IRGC Murders, Zarif Covers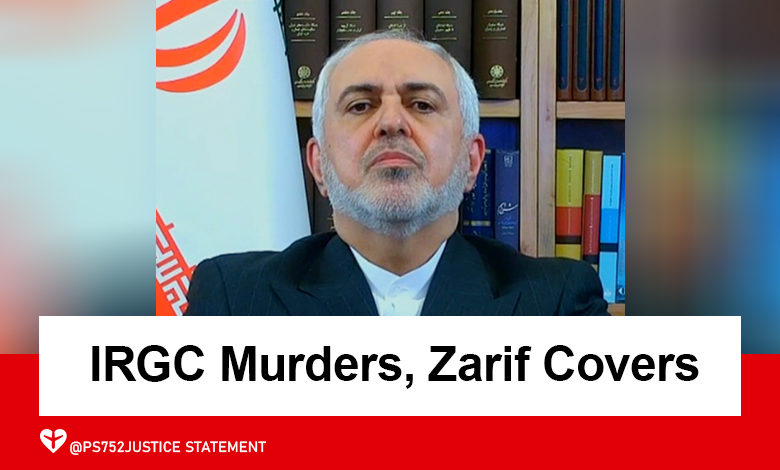 February 9, 2021 — Listen to Mohammad Javad Zarif, Foreign Minister of the Islamic Republic of Iran. He has no desire to find the truth. He is playing his role to fulfill systematic crimes of the Islamic Revolutionary Guard Corps (IRGC). His only responsibility is to normalize this mass murder and avert any international criminal proceeding. You can understand from his remarks that he too views the downing of PS752 an intentional attack, but he says that it is not prudent to pursue it, that they should "close the case" with compensation.
He says the truth "will never be revealed." Truth is the first step to any reparation that other governments are seeking in negotiations. In negotiations Iran will repeat that the downing was due to a "human error", but opposite scenarios are discussed behind closed doors.
Iran has repeatedly demonstrated bad faith in investigations and negotiations. This statement makes it clear, on the eve of the release of Iran's final investigatory report into the attack on PS752, that Iran cannot be trusted and is not willing to disclose the truth and to hold its officials to account. We call on the government of Canada and all interested governments to:
Scrutinize Iran's final report for completeness and accuracy, using and sharing all available intelligence.
Place at the centre of any negotiations with Iran the need for Iran to disclose all relevant facts, before any other issues are addressed.
If Iran fails to disclose all relevant facts, pursue all appeals to ICAO and the International Court of Justice.
Cooperate to the fullest extent possible, as required by article 11 of the Montreal Convention, to investigate and prosecute Iran's crimes in the attack on PS752.
Declare the Islamic Revolutionary Guard Corps (IRGC) as a terrorist organization and implement the Magnitsky Act on the perpetrators of this crime—including the foreign minister of Iran.
Approve the request of the Association in relation to the formation of an independent and dedicated legal team in Canada.