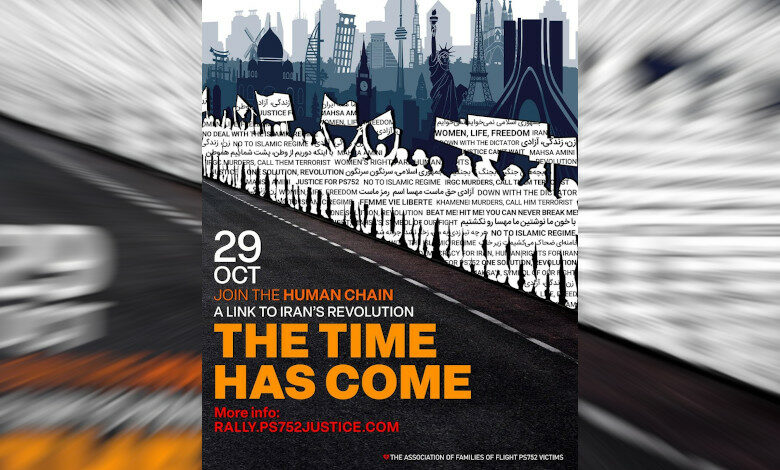 A Human Chain Across the Globe
The Link to the Revolution in Iran
For decades, the Iranian people are battling against evil and murder. Over the past few weeks, after the murder of Mahsa Amini, this arduous battle has transformed into an outright revolution of civil society.
The voice that rises from Iran, is the voice of unity and resistance against injustice. It is our duty to redouble our efforts to echo this voice so the world understands how the tyranny of the Islamic Republic breaks the boundaries of viciousness and injustice and how it has taken a great nation as its prisoner.
We stand together on October 29th to form a Human Chain across the globe, from east to west, and from north to south, to be the voice of the Iranian people.
Today, we repeat once again on this day of October 29th, that western governments are duty-bound to act without delay;
1- Stop negotiating with the Islamic Republic and acknowledge the revolution.
2- Immediately declare all ambassadors of the Islamic Republic and its representatives in international organizations as persona non-grata.
3- Subject the Islamic Republic oligarchs to the same treatment as the Putin Oligarchs.
4- Provide free and unobstructed access to internet in Iran.
The Iranian revolution remains alive with hope, and the Iranian people do not rely on the decisions of foreign governments, but their own bitter experiences of the past forty years to determine their own fate through the bold, courageous leadership of the Iranian women and youth until their nation achieves liberty and justice.